APRIL 18, 2017
6 Amazing Online Marketing Strategies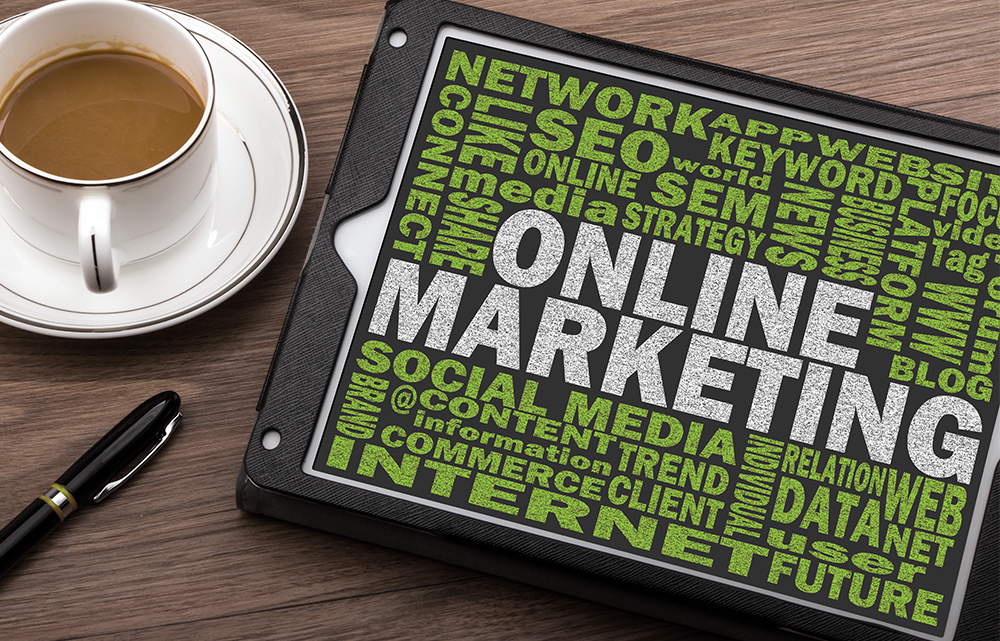 Online marketing involves promoting and advertising your products or services using digital and social media platforms. Let's take a look at a few online marketing strategies:
1. Search Marketing
Search marketing includes Search Engine Optimization (SEO) and Search Engine Marketing (SEM). SEO is the process of making your name and website more visible in search engines. It helps your business rank higher in the search results whenever potential clients enter search keywords that match the products and services that you offer. SEO is free and focuses on organic search results.
SEM, on the contrary, involves promoting your website and increasing traffic through paid advertising using search engines such as Google, Bing and Yahoo. SEM activities may include launching ad campaigns with a specific target audience in mind, checking metrics such as impressions, clicks, click-through rates (CTR) and average cost-per-click (CPC).
SEO is considered a subcategory of SEM. If you really want to promote your business online, you have to work on both your SEO (organic links) and SEM (advertised links).
2. Social Media Marketing
Social Media marketing is booming with most brands relying on boosting their brand presence through the various platforms. Social media platforms like Facebook, Twitter, LinkedIn, Youtube, and Pinterest all provide good opportunities for online marketing. Social media marketing is not just about posting ads for your products and services. An effective social media campaign demands for a highly interactive and well maintained brand pages and profiles. The customer insights that you get through social media are extremely valuable. Hence, you need to be in constant touch with your audience; have active conversations to keep the momentum going.
Social media marketing requires a lot of time and effort. But what's great about it is that it can generate a lot of buzz about your business if you manage to generate popular or viral content.
3. Email Marketing
Email marketing involves utilizing email to send advertisements or request business from potential or existing clients. There are four types of email marketing – email newsletters, acquisition emails, retention emails, and promotional emails.
Email marketing has a good return on investment (ROI). According to Campaign Monitor, an email marketing tool, "email marketing yields an average 3,800% return on investment for businesses and for every dollar spent on email marketing, the average return on investment is $38."
4. Mobile Marketing
Mobile marketing is a part or a component of a multi-channel promotional activity that aims to reach a target audience through their smart phones, cell phones or other handheld devices. There are different types of mobile marketing strategies that can work for any business depending on the target audience, budget, and industry. These are the following:
• App-based marketing – advertising via mobile apps.
• In-game mobile marketing – advertising via mobile games. In-game ads can appear between loading screens as video, full-page image, or banner pop-ups.
• QR codes – a mobile user can scan the QR code to get more information regarding a service or a product.
• Location-based marketing –mobile ads that appear depending on the user's geolocation relative to a specific area or business.
• Mobile search ads – these are Google search ads that often feature extra add-on extensions like maps, click-to-call, or click-to-download.
• Mobile image ads
• SMS marketing– SMS marketing involves sending text offers to a target audience
5. Directory Listings
Another low-cost way of online marketing is adding your business to directory listings. These directories can help your customers to easily find you. When you list your business in directories, make sure to provide the same name, address, and phone number as any variation will confuse Google.
The most popular business directories are Yellow Pages, Manta, Yelp, and Foursquare, among others. Citations and links from these business directories can also boost your local search engine rankings.
6. Blogging
Blogs are the most updated and maintained platforms on the internet today making bloggers the biggest influencers in the online world. A brand blog or a business blog can help you communicate with your existing and potential clients and keep them informed about the latest updates on your products or services. Having a blog can also help you gain customer insight which you can use to improve your business.
Keep in mind:
Just like in offline marketing, you also have to carefully plan your online marketing campaign. Check which marketing strategy works best for your business.
Online marketing can give your business the opportunity to reach thousands of people who would never know your products and services otherwise. Take advantage of that.
---
---
Share: &nbsp&nbsp &nbsp&nbsp &nbsp&nbsp &nbsp&nbsp &nbsp&nbsp